DALLAS, Texas (Nov. 15, 2013) — Akili was recognized this week as one of the 100 fastest growing, most dynamic  privately held companies in the Dallas area at the 23rd Annual Dallas 100™ Awards ceremony presented by the SMU Cox Caruth Institute for Entrepreneurship.
Akili and the other Dallas 100 companies were honored at an awards ceremony at the Omni Hotel Dallas on Nov. 14.
"Akili is honored each year we have made the Dallas 100™ Awards. We attribute our continued success to the quality of our team and our unwavering commitment to our clients," said Shiek Shah, Akili CEO.  "Akili's core values guide the decisions our people make daily and have given us solid principles to apply no matter the circumstance."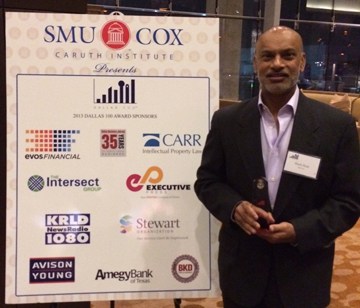 The unsung heroes of our economy are the entrepreneurs who build their own businesses and create jobs as fast as large companies eliminate them. While entrepreneurs are the engines of growth in our economy, they often go unrecognized. The Dallas 100™ was created to correct this injustice. Each year the Dallas 100TM scans the business environment to identify the 100 fastest growing privately held companies in the Dallas Metroplex.
The Dallas 100TM Awards Criteria
To qualify for the 2013 Dallas 100TM Awards, a company must be independent, privately held corporations, proprietorships or partnerships (not subsidiaries or divisions of a parent company) as of May 1, 2013. They must have at least 3 years history and not be a non-profit organization. Companies must be headquartered in the Dallas Metroplex, have sales of more than $500,000, but less than $75 million in fiscal year 2010, and have a three-year sales history which reflects growth during the three-year sales period. Companies must have a credit report and character satisfactory to the Dallas 100 TM, determined at the sole discretion of the Dallas 100TM.
From SMU Cox School of Business
Dallas 100™, co-founded by SMU Cox Caruth Institute for Entrepreneurship, honors the ingenuity, commitment and perseverance of the fastest growing privately-held entrepreneurial businesses in the Dallas area.  According to the Caruth Institute's data, this year's winning companies collectively created 13,351 jobs during the previous two years, grew at an average annual growth rate of almost 88 percent per year and achieved almost $3.6 billion in sales over the past year.  This is the 23nd year that the Caruth Institute has organized this event and the first year it has been held at the Omni Dallas Hotel.
About Akili Inc.
Akili (pronounced (uh • kē' • lē) meaning "knowledge" in Swahili) is an SAP Gold partner and information technology consulting firm founded in 1992. Akili is headquartered in the Dallas suburb of Irving, TX, with locations in Houston, TX and Denver, CO.
Akili delivers solutions for Fortune 1000 companies, with an Oil & Gas industry focus, in the areas of ERP (Including PRA, JVA, Asset Management), Enterprise Performance Management (including BPC), Business Analytics (Business Objects, Business Warehouse, Hana, Mobility, Data Services).
Akili's 100% success rate spans 20+ years of precision of implementation design and trusted delivery of the best combination of technology and consulting.
For more information on Akili's solutions and services, please visit www.akili.com or email info@akili.com.