By Sid Powar | COE Director of Supply Chain
Introduction to ABC Analysis
Today, businesses have to compete in a marketplace that demands variety and choice and therefore increasingly offering a wider range of products. As this occurs, the SKU count increases and product portfolio management becomes more challenging. Growing product offerings result in increased inventory requiring more warehouse space and more resources to order, receive, pick and pack the goods. Investing more working capital in inventory results in many businesses reducing their profitability. More importantly, this allows for less money to be invested elsewhere in the business such as growth plans, personnel or automation.
Managers can grow their product portfolio without reducing profitability by proactive inventory analysis and classification. In this article, I will provide an overview of ABC and XYZ analysis and how these frameworks can be used to classify warehouse items by their value to your business. I will also demonstrate how tools such as Anaplan (www.anaplan.com) can automate this process and how the resulting data can be used to set stock levels, safety stock parameters and make service level decisions.
ABC analysis can be used to categorize SKUs into three or more categories based on how much value they bring to your business. "A" items are very important and often business critical. They also have a high value or are sold in large volumes. "B" items are next in priority and mid-range in inventory value. "C" items are low priority and have a low inventory value. ABC analysis follows the Pareto Principle where 20% of stock accounts for 80% of the value to the business and the other 80% of stock accounts for only 20%, as shown in this diagram.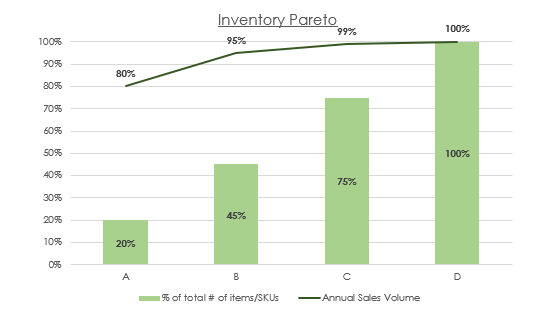 A one size fits all inventory policy where all SKUs have same inventory results in poor customer service levels and increased inventory value. ABC classification allows you to set dynamic/different service levels, safety stock levels and reorder levels for each class. Most companies may want to focus on improving the service levels of "A" class over "B" items and "C" items by increasing your safety stock levels to avoid stockouts and improve customer experience.
Why add X-Y-Z parameters to ABC?
ABC analysis has been used for many years as a standalone way to help companies segment their inventory into buckets that help reduce inventory. It has a few drawbacks such as only looking at inventory value or volume. When items/product categories are very diverse this can cause more issues than help solve the problem at hand. To help segment inventory/product offerings in an organization that is diverse, I suggest adding XYZ parameters.
XYZ analysis allows you to classify products based on their variability of demand or reliability of supply. "X" items have regular and stable demand/supply profiles, "Y" have significant variability in demand/supply and "Z" items have very irregular demand/supply profiles.
The variability of demand/supply for an inventory item can be expressed as the coefficient of variation. Also, determine the time horizon for relevant historical data.
If the business is cyclical or seasonal then ensure the history captures enough periods to calculate the parameters. To categorize your products into X, Y and Z calculate the coefficient of variation for each item with the calculation: (Standard deviation / mean) * 100.
With your ABC and XYZ categories identified, you can produce a matrix similar to the one below and assign each group.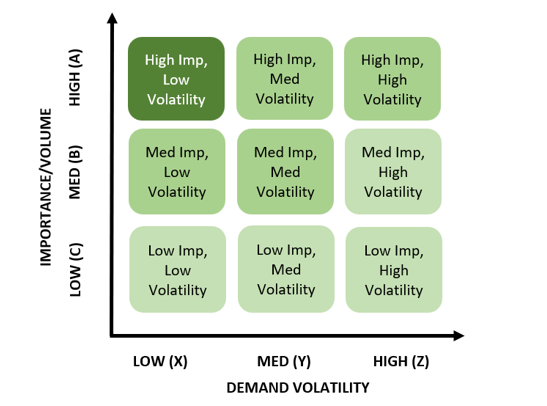 How to use ABC-XYZ Analysis
Adding another level of insight to your inventory classification allows you to make more informed ordering and stocking decisions. For example, it makes sense to treat AX items, that have a constant demand/supply, differently to those with erratic demand/supply (AZ items). If demand/supply is steady and easy to predict (X items), your safety stock levels can be much lower than products where demand/supply is much more volatile (Z items). This allows you to analyze demand/supply less often on BX products (with constant demand/supply) than those with sporadic demand (BZ), as they typically have stable/reliable demand and supply and the risk of excess or obsolete stock is lowered.
How Anaplan Improves Inventory Segmentation using ABC-XYZ analysis
Anaplan helps organizations analyze every SKU across your business against inventory value, volume, demand/supply variability etc. The result is a far more advanced and accurate inventory classification matrix that allows you to set tighter and more accurate inventory policies. The example below shows an inventory policy matrix using Local DC Service levels, Target weeks of supply, Target reorder levels.

A service level is the probability of not having a stockout. So, a 99% service level means there's a 99% chance that you'll have a product in stock when a customer orders it. For example, in the inventory policy matrix below the service levels could be set as follows: Light Blue – 99% Blue – 95% Dark Blue – 90% Reducing Stock.