Are you ready join the Akili team? You'll work for a company that values you as an individual and provides the opportunity to work alongside extraordinary consultants while using innovative and exciting technologies to improve our clients' businesses. Akili has a long history of investing in our employees and a unique culture of hiring adults and treating them as such. We are casual about everything except our work. Click below to see our current opportunities.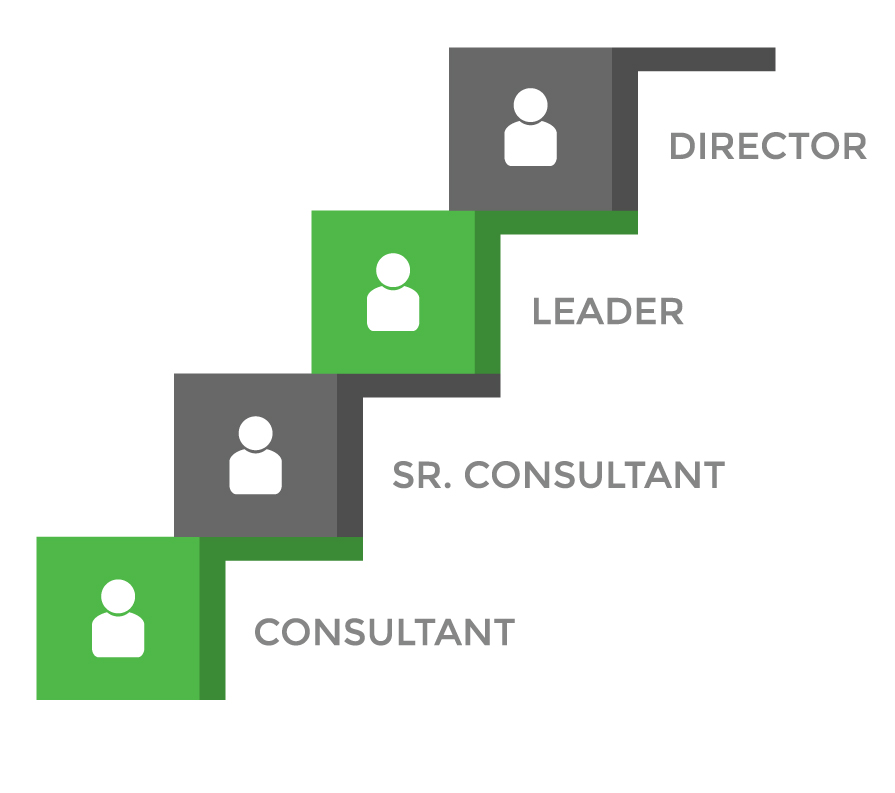 Akili has defined a consulting career path with expectations for each level. The career path provides a clear outline of career growth opportunities and advancement requirements and facilitates discussions of each Consultant's career goals and development plans. Whether you want to advance up the career path or stay at level and deepen your skills, that is up to you. Upward movement is optional; this is not an up-or-out model.
Akili is looking for an Enterprise Account Executive to join our team and support some of the fastest growing cloud software vendors in the market, while making an impact on the industry. You will take your proven track record and sell a versatile solution set – Anaplan, Workiva, Tableau, PowerBI and Snowflake – that are helping people and companies around the world every day to make better-informed plans, forecasts and decisions with data.
In this role, you will be a key contributor to Akili's revenue goals while leading our growth in the East Coast market. You will work with our Sales Development Reps, Delivery Organization, Marketing, and Partners to build customer value and drive new business opportunities to the Akili ecosystem.
What you'll be doing:
Prospecting into a list of targeted accounts to identify broken business processes and selling Akili's unique ability to solve that problem
Building Akili's, and our respective partner solution's, business value throughout the selling engagement. Navigating complex prospect environments to align the prospect around the Akili solution and services.
Building and maintaining a pipeline of high-quality opportunities.
Utilizing Akili's consultative sales methodology and tools to manage sales processes and accurately forecast revenue.
Leveraging partners, your network, and existing customers in your territory to build your Akili market.
Landing and expanding the Akili footprint within existing accounts.
You have:
3-5 years' successful selling into hyper growth and/or large company space
Experience selling into the Finance, Supply Chain and Sales Operations lines of business.
Strong network in your local territory with both customers and partners
Consultative; relationship selling skills.
Ability to understand and navigate through complex and fast paced company environments.
History of meeting/exceeding quotas.
A curious nature, hunter mentality, persevering attitude and build relationships with ease.
BS/BA degree.
Bonus points:
EPM, BI or ERP cloud software sales experience
Passion for a fast paced, high growth environment
Loves white boarding with prospects and creative selling
JOB DESCRIPTION
At Akili, our primary focus is on implementing processes and technologies that enable companies to improve their planning and analytics processes throughout the organization, including in the office of Finance, Supply Chain, Sales, and more. We partner with best in class technology solutions including: Anaplan, Snowflake, Tableau, SAP & others.
As an Anaplan consultant with Akili, your day-to-day focus will be on building Anaplan planning solutions by:
Documenting client requirements
Building elements of the Anaplan model
Loading customer data into the Anaplan model
Collaborating with the customer on the model development to ensure the solution is meeting the client objectives
Support the User Testing of the developed model
Akili offers a robust career path that allows you to grow as a consultant. As you progress through the career path you will have technical, project and customer leadership opportunities that will increase your level of responsibility and impact. Our primary goal is for you to add value to our clients by helping solve problems that are critical to their business.
BASIC QUALIFICATIONS:
A 4-year degree in Finance, Accounting or MIS is preferred
1+ years' experience implementing Anaplan solutions
Proficient in Anaplan & aware of their technology roadmap
Certification in Anaplan is preferred
Experienced in identifying and solving problems in assigned and related tasks
Ability to interact with client teams and independently drive conversations
Communicates clearly and concisely with teammates and clients
Creates and delivers clear and effective documentation
Strives to become proficient in functional areas
Has consistent and appropriate soft skills with clients
JOB DESCRIPTION
Akili is expanding its Cloud Solutions practice, and we need qualified candidates to help us grow!  If you have strong analytical skills and enjoy creating complex financial models, we want you to join our team.  Whether your background is in financial planning and analysis, demand planning, sales and operations planning, workforce planning or actuarial planning, we need problem solvers who enjoy building planning solutions.
Anaplan is a cloud-based planning platform that is disrupting the world of enterprise planning management.  Akili is a premier Anaplan partner with expertise in helping our clients implement complex planning solutions using the Anaplan platform.  The Anaplan Modeler will be trained to use the Anaplan platform to build planning models, then join other Akili planning team members to build solutions for our clients.  We work in teams.  We need people who are goal oriented and work well with others to achieve successful outcomes for our clients.
BASIC QUALIFICATIONS:
Bachelor's Degree in Finance or Information Systems or related discipline

Required 2+ years' experience as a financial analyst or financial systems developer

Strong experience using advanced financial formulas to build complex financial models in MS Excel

Good understanding of general accounting and financial principles

Detail oriented and commitment to building high-quality solutions

Eagerness to learn and work with a dynamic, fun team

Experience implementing software applications a plus

Previous experience with Anaplan a plus

Ability to travel as required
JOB DESCRIPTION
Akili is expanding its Cloud Solutions practice, and we need qualified candidates to help us grow!
Akili is a Gold Anaplan partner with expertise in helping our clients implement complex planning solutions using the Anaplan platform. As an architect, you are primarily responsible for the successful delivery of Anaplan planning solutions in strategic accounts via design excellence. We work in teams. We need people who are goal oriented and work well with others to achieve successful outcomes for our clients.
RESPONSIBILITIES
Translate existing solutions, spreadsheets, and business problems into sophisticated Anaplan multi-dimensional models

Modify existing models as part of a connected solution, optimization, or to incorporate new functionality

Serve as the architectural SME for large-scale connected planning solutions

Provide technical leadership and accountability to the project team

Provide candid, meaningful feedback and progress updates in a timely manner to the Business Partner and team

Develop model documentation

Participate in data integration and migration solutions

Participate and/or lead UAT testing and deployment
QUALIFICATIONS
A 4 year degree in Finance, Accounting or MIS; experience in architecting Enterprise Performance Management, Sales Performance Management, Supply Chain Planning solutions is also relevant

2+ years' experience implementing Enterprise Performance Management solutions

Demonstrated knowledge of a formal system implementation methodology – requirements gathering, design, build/test and deploy (Agile methodology preferable)

Superb written and oral communication skills

Proven ability to lead execute responsibilities simultaneously

Penchant for service excellence and a collaborative style

Subject matter expertise in planning and modeling in Supply Chain, Finance or Sales strongly preferred

Strong understanding of data integration (inbound and outbound)

Passion for business analytics, modeling and planning
Coaching mentality

Collegial, open and grounded in integrity

Desire to work with a truly dynamic and exciting team, with a "roll-up your sleeves" approach
The PM will lead the successful delivery of Anaplan, OneStream and BPC Implementation projects including client relationships and stakeholders' expectations management, overall project direction, communication, implementation, change management, quality control, and production deployment while ensuring consistency with Akili's Core Values.
Main Job Tasks and Responsibilities
Work with Solution Architect and Sales team to define project scope, goals, deliverables, work estimates, high-level project plan, and budget during the sales process
Create and maintain detailed project plans in MS Project; define project tasks, dependencies, milestones, resource requirements and allocation
Act as the primary liaison between Akili and Client team members
Build and maintain strong productive relationships with key client stakeholders and Akili project team
Provide direction and support to the project team (both client and Akili)
Manage project scope, identify potential risks, create change requests (based on potential scope increase)
Lead requirement gathering meetings with clients; document business and system requirements
Perform solution development tasks as needed
Write test plans and test cases, assist with unit and system testing, coordinate User Acceptance Testing, track issues and assure their prompt resolution
Create deployment plans, manage production deployment and client knowledge transfer
Update and track project budget, actual cost, estimate to complete and estimate at completion
Track and monitor project deliverables progress
Create client status reports tracking project progress, budget, risks, issues, and solutions
Provide weekly internal Akili status report and revenue forecast
Perform project closing, evaluations, and assessment of results
Education and Experience Requirements
5-10 years of experience in IT consulting and project management. PMP Certification preferred.
Bachelor's degree in Information Systems Management, Computer Science, or related area. MBA preferred.
Knowledge of theoretical and practical aspects of project management best practices, tools and methodologies.
Excellent written and oral communication skills, listening, presentation, and interpersonal skills
Ability to communicate at both technical and business levels.
Excellent people management, planning, risk management, change management skills.
Experience in business requirements gathering, application development, testing, and implementation.
MS Project and Microsoft Office proficiency.
Experience with Anaplan, SAP BPC or OneStream or similar tool.
Key Competencies
Ability to build trust quickly with knowledge of product, implementation methodology, and strong work ethic
Critical thinking and problem solving skills
Planning and organizing
Decision-making
Excellent communication skills
Influencing and leading
Delegation
Team work
Negotiation
Conflict management
Adaptability
Stress tolerance
Sense of humor
Akili is committed to creating a diverse environment and is proud to be an equal opportunity employer. All qualified applicants will receive consideration for employment without regard to race, color, religion, gender, gender identity or expression, sexual orientation, national origin, genetics, disability, age, or veteran status.